Discover authentic European cuisine like you've never tasted before!
A delicious selection of European dishes await you at Szarotka! These homemade specialties are always freshly prepared and cooked to perfection. We are a family-owned restaurant and our primary commitment is to provide you with the finest, fresh quality and deliciously tasting food, as well as personal service in a warm dining atmosphere.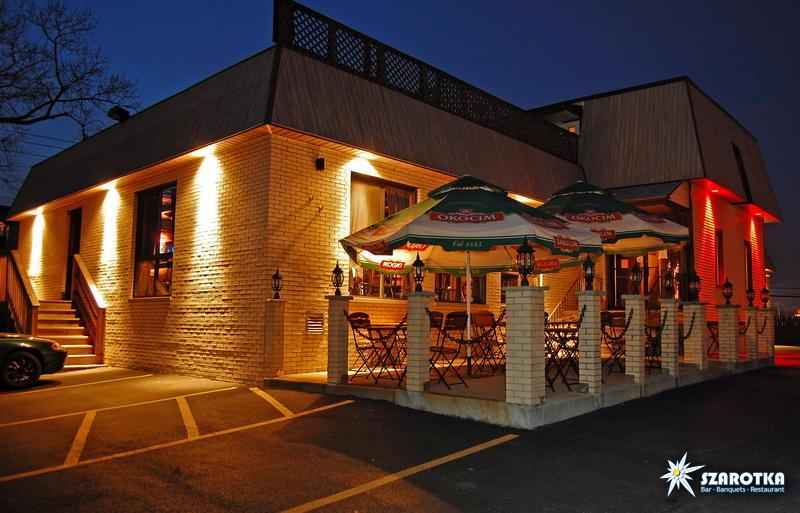 Szarotka (pronounced sha-rote-kah) is the Polish name of a white flower which grows in the Alps and Carpathian Mountains. It is widely known under its German name: edelweiss.
The restaurant, originally named Baltic, opened in 1989 offering Lithuanian cuisine. In later years it was sold and the name was changed to Szarotka's Hideaway Sports Bar. We, as the current owners, have owned Szarotka Restaurant/Bar/Banquet since 2000. However, the restaurant has only been opened since 2006. In 2007, the interior was renovated to accommodate a cafe area, and in 2008 the outside patio was opened.
In the past years, from about 2009 to 2011, Szarotka held its weekly "Friday DJ Night". Approximately 400 people attended these club-like nights per event. Also, we hosted a weekly live band night from 2006 to 2008.
To all our customers we offer a free high-speed internet connection through our secure wireless network. No ports or services are blocked so that you may fully enjoy the wireless freedom with a cup of coffee or a bowl of our delicious homemade soup.
In addition to being a well known Southside restaurant, Szarotka is famous for its family-style carry outs and banquet services. We accept private reservations in the restaurant and banquet facility with a full service bar.
No matter how big or how small your special occasion is, Szarotka is a great place to celebrate it. We offer three distinct areas to hold your special event:
The restaurant and bar (upper level) can accommodate up to 80 guests.
The cafe and bar (upper level) can hold up to 50 guests.
The fully-equipped banquet room (lower level) can serve up to 150 guests.
Whether it is an engagement party, rehearsal dinner, wedding reception, charity event, an office, holiday, or cocktail party, a bridal or baby shower, cotillion, quinceanera, business gathering, anniversary, christening, first communion, confirmation or any other religious function, a memorial luncheon, a birthday, or a small private event, the entire staff at Szarotka will go to lengths to make your special day a life-long memory.
We also carry a take out menu, family-style menu, and a memorial luncheon menu. In the near future, we will also offer online ordering.
Smacznego!
The Owners